Welcome to the Ultimate Transport Guide for traveling from Genoa to Monaco in 2023!
Whether planning a weekend getaway, a business trip, or a vacation to explore the beautiful French Riviera, this comprehensive guide will provide all the necessary information to make your journey smooth, efficient, and enjoyable.
This guide will help you find detailed transport options, tips for saving time and money, and essential information to help you plan your trip effectively.
From various modes of transportation to recommended routes, we got you covered.
Let us dive in and explore the best ways to travel from Genoa to Monaco!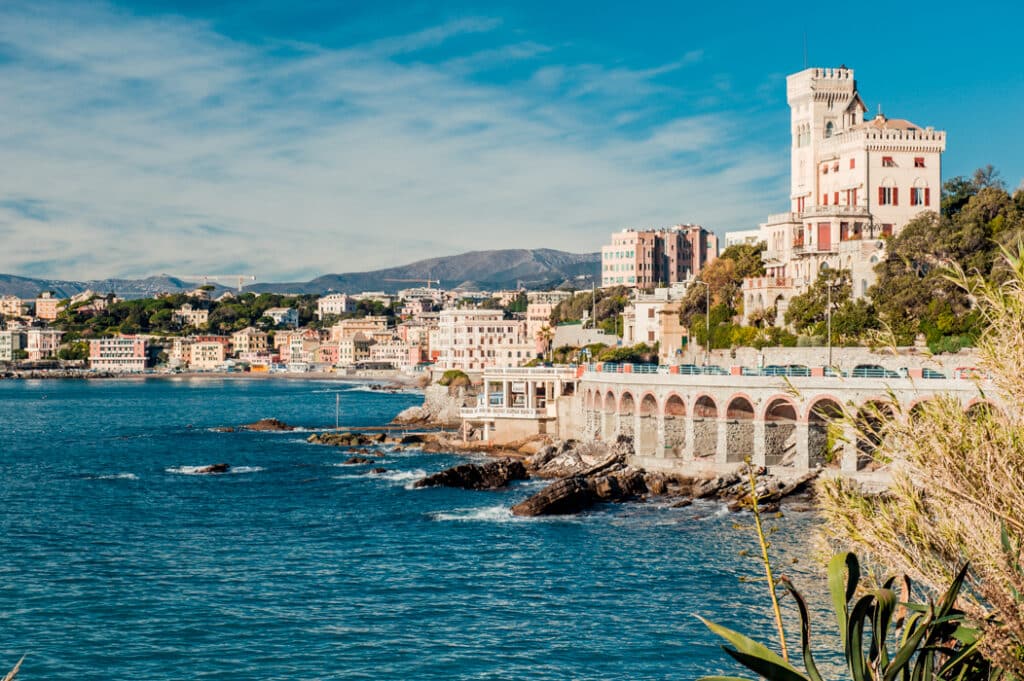 Where Is Monaco?
Monaco is a tiny sovereign city-state between the Mediterranean Sea and the majestic Maritime Alps on the glamorous French Riviera.
Monaco, a playground for the rich and famous, offers a captivating combination of luxury, natural beauty, and rich cultural heritage. Despite its small size, Monaco has established itself as a global luxury hub, hosting prestigious events such as the Formula One Grand Prix and attracting visitors from all over the world.
Monaco is located on the Mediterranean's northeastern coast, bounded on three sides by France. It is located about 18 kilometers (11 miles) east of Nice, making it an ideal destination for day trips or longer stays along the French Riviera.
Nice Côte d'Azur Airport (NCE) is the closest airport to Monaco.
This international airport, located just 30 kilometers (19 miles) west of Monaco, offers a wide range of flights from major cities worldwide.
Travelers can easily reach Monaco from Nice Airport via various modes of transportation, including trains, buses, and car rentals, as detailed in our comprehensive transportation guide.
Whether you come to Monaco for the world-class casinos, the extravagant yachts, the picturesque landscapes, or the rich history, this glamorous city-state will provide an unforgettable experience.
Prepare to be enchanted by Monaco's extravagance while immersed in its enchanting Mediterranean surroundings.
Travel Distances to Monaco
Here is a list of travel distances from Monaco to nearby bigger cities for quick reference:
Nice, France: Approximately 18 kilometers (11 miles) west of Monaco
Cannes, France: Approximately 55 kilometers (34 miles) southwest of Monaco
Genoa, Italy: Approximately 200 kilometers (124 miles) northeast of Monaco
Marseille, France: Approximately 210 kilometers (130 miles) west of Monaco
Milan, Italy: Approximately 315 kilometers (196 miles) northeast of Monaco
Turin, Italy: Approximately 375 kilometers (233 miles) northeast of Monaco
Florence, Italy: Approximately 440 kilometers (273 miles) northeast of Monaco
Barcelona, Spain: Approximately 670 kilometers (416 miles) southwest of Monaco
Rome, Italy: Approximately 700 kilometers (435 miles) southeast of Monaco
Zurich, Switzerland: Approximately 800 kilometers (497 miles) north of Monaco
These approximate distances are a general reference for planning your travels from Monaco. Remember that travel times may vary depending on the mode of transportation chosen, traffic conditions, and other factors.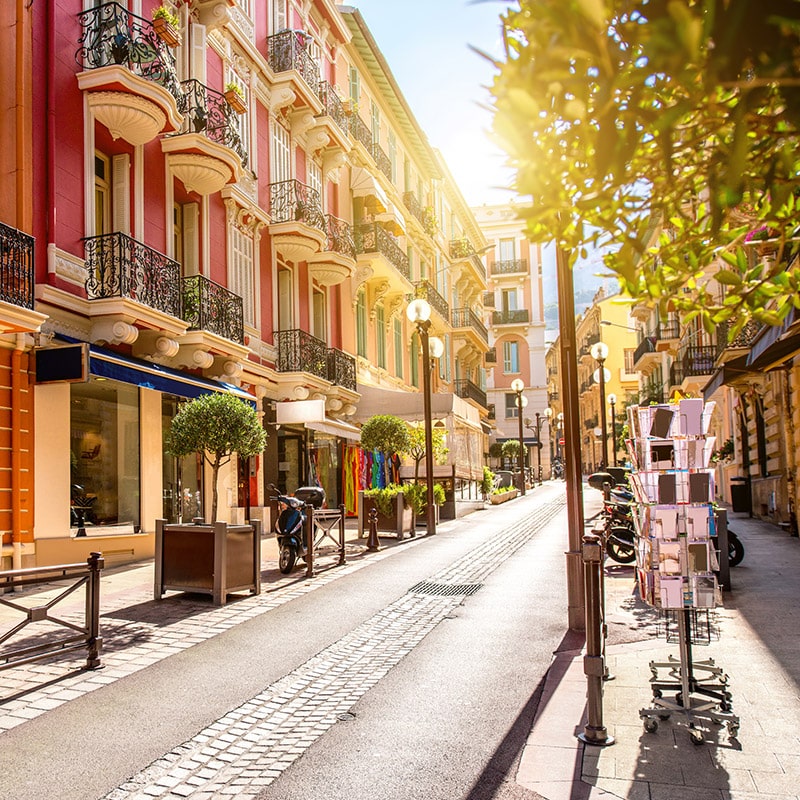 Genoa to Monaco: Transport Options
There are several options for getting from Genoa to Monaco, each having advantages and disadvantages.
Whether you like the simplicity of a train, the adaptability of driving a car, the affordability of a bus, the comfort of a cab, or the elegance of a helicopter or limousine, you may choose the mode of transportation that best suits your preferences and budget.
1. Genoa to Monaco by Train
Many people like to take the train from Genoa to Monaco. It offers comfort, beautiful scenery, and the ease of avoiding traffic. The train trip lets you relax and enjoy the stunning seaside views.
Piazza Principe, in Piazza Acquaverde, is Genoa's main train station.
The heart of the city is where you will find the Monaco Monte Carlo railway station. Both railway stops have ticket booths, waiting areas, and restrooms.
Train travel from Genoa to Monaco typically takes two hours. Train fares vary depending on the day of the week and the level of service. The price of a one-way ticket might range from €20 to €50.
It is advisable to check trainline.com for up-to-date prices and departure times. Popular departure times include mid-morning and early afternoon.
It is recommended to book in advance, especially during peak travel seasons. Online booking platforms like trainline.com provide a convenient way to check availability, compare prices, and make reservations.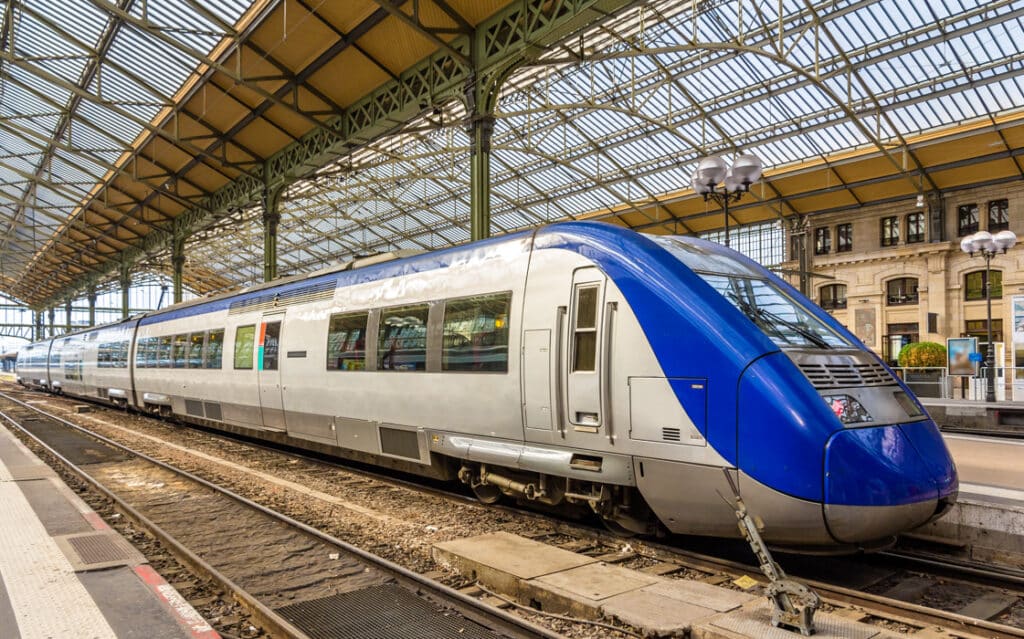 2. Genoa to Monaco by Car
Traveling by car offers flexibility and convenience, allowing you to explore the region at your own pace.
The journey from Genoa to Monaco by car takes approximately 2 to 3 hours, depending on traffic conditions and route.
One recommended route is the A10/E80 highway along the scenic coastal road. This route offers breathtaking views of the Mediterranean Sea and the French Riviera. It is recommended to use a reliable navigation system or Google Maps to ensure a smooth journey.
When it comes to renting a car, Discover Cars is a recommended car rental company.
They are a price comparison platform that provides transparent conditions and helps you find the best car rental prices. It is essential to familiarize yourself with driving license requirements, speed limits, and other practical tips before embarking on your journey in France.
3. Genoa to Monaco by Bus
Bus travel is a cost-effective option for those looking cheaply to get from Genoa to Monaco.
The average bus journey time is 3 to 4 hours, depending on traffic and any stops.
Tickets for the bus can be purchased online at platforms like omio.com, offering flexibility in choosing departure times and securing your seat. Prices for bus tickets range from €10 to €20, making it an affordable choice.
During the bus journey, it is advisable to bring along some entertainment, such as a book or music, to make the trip more enjoyable. Additionally, having snacks and water with you can ensure you stay refreshed during the journey.
4. Genoa to Monaco by Taxi
A cab from Genoa to Monaco is a reasonable option for individuals looking for pleasant and convenient transportation. The typical taxi ride costs between €150 and €200, depending on the time of day, traffic conditions, and taxi operator.
Kiwi Taxi is a recommended taxi company that provides reliable and professional services in the region. Booking in advance is advisable to secure transportation and ensure a hassle-free journey.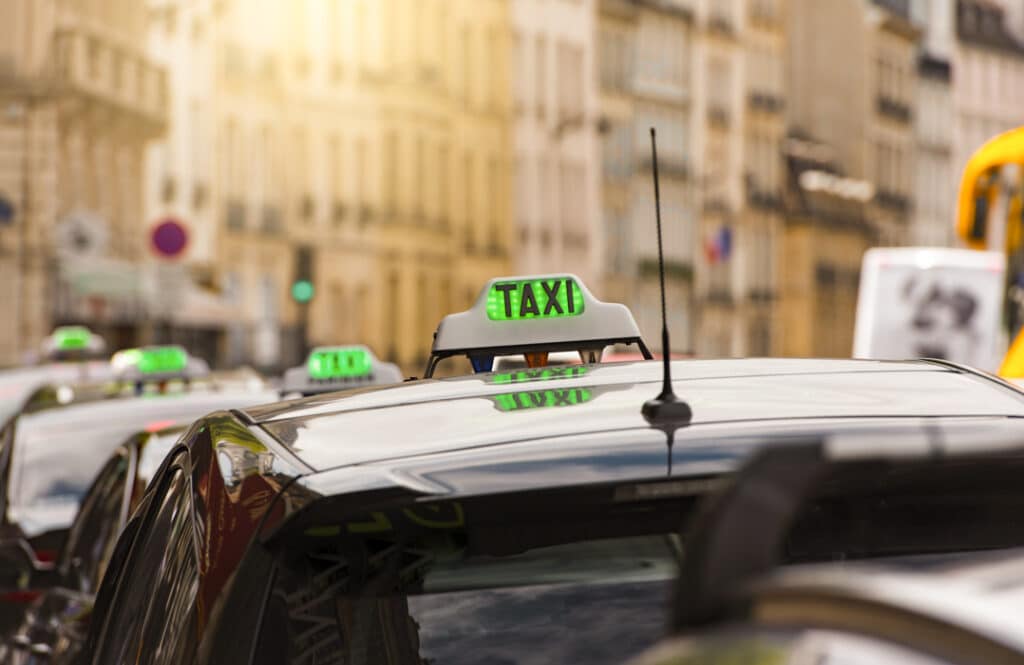 5. Genoa to Monaco by Helicopter
Traveling by helicopter from Genoa to Monaco is an excellent luxury and time-efficient alternative.
This option allows you to experience amazing aerial views of the gorgeous coastline while cutting travel time substantially.
A helicopter ride from Genoa to Monaco typically costs between €800 and €1,200 per person, depending on the aircraft type, business, and other services included. It is crucial to remember that rates vary. Thus it is best to contact local helicopter operators for specific pricing.
When it comes to duration, the helicopter flight typically takes around 30 to 40 minutes, depending on weather conditions and air traffic. A thrilling and memorable experience allows you to arrive in Monaco swiftly and in style.
Heli Securite is a highly recommended local company to use for helicopter services. They provide professional and reliable regional helicopter transportation, ensuring a safe and comfortable journey. It is advisable to contact them directly for pricing, availability, and any specific requirements you may have.
6. Genoa to Monaco by Limousine
Traveling from Genoa to Monaco in a limousine is an excellent option for those who prefer a comfortable and private transportation experience. It offers convenience, style, and the flexibility to tailor the journey to your preferences.
Several factors, including the kind of limousine, duration, distance, and any extra services required, determine the typical cost of a limousine ride from Genoa to Monaco.
On average, prices range from €300 to €600, although it is best to verify with local limousine operators for exact pricing.
Kiwi Taxi is a dependable portal for hiring a limousine that provides price alternatives and allows you to compare different limousine providers.
They offer a simple and quick booking process, assuring a pleasant experience from beginning to end. Traveling by limousine from Genoa to Monaco typically takes between 2 and 3 hours, depending on traffic conditions and the route used.
It is important to note that travel time may vary, so plan and account for any potential delays. Traveling by limousine provides luxury, privacy, and door-to-door service. It is an excellent choice for special events, business visits, or simply treating yourself to a deluxe travel experience.
Final Words
This thorough guide provides all the information you need to organize your vacation properly, whether you choose ease, flexibility, price, or comfort.
Choose your method of transportation and experience a smooth, quick, and pleasurable trip from Genoa to Monaco.
This comprehensive transport guide will give you all the information you need to make informed decisions and have an incredible journey from Genoa to Monaco in 2023.
Get ready to embark on an unforgettable adventure along the stunning French Riviera!