Known worldwide for its luxurious lifestyle and lavish attractions, Monte Carlo is a wealthy city boasting glamorous yachts, fancy sports cars, and exclusive events.
Monte Carlo has a captivating history with invasions, the royal family, and a tale of how a region on the verge of economic failure became known as the charming, elegant, and sophisticated city we know Monte Carlo as today.
Monte Carlo is iconic, but is it a big city?
In the second smallest country in the world, Monte Carlo is quite a small big city, but its beauty will leave you speechless.
Monte Carlo is not just famous for its extraordinary sea and mountain views, but it also has one of the best climates in all of Europe, with more than 300 days of sun each year. The sunlight, along with the charming city and glamorous experiences, brings plenty of tourism.
With high-end events, the world-renowned Monte Carlo Casino, and a lifestyle that many travellers yearn to experience, one of Monte Carlo's largest economic sectors is tourism. Monte Carlo is a truly incredible city with a range of culture, history, and experiences.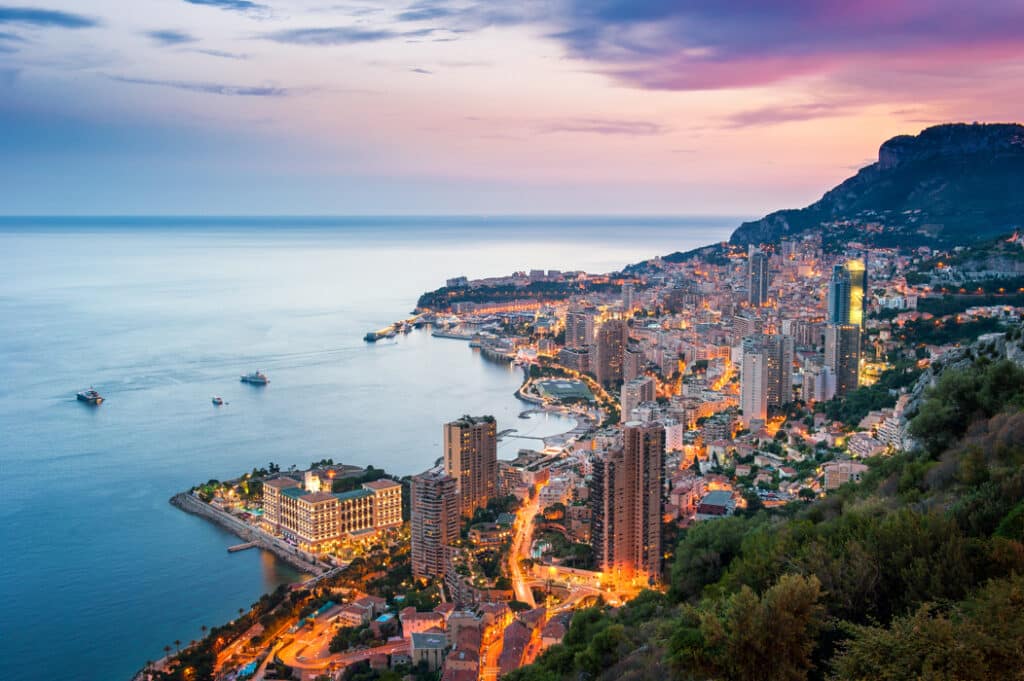 History of Monte Carlo
From rags to riches, the history of Monte Carlo has a deep and fascinating history that is full of intriguing royalty, glamour, and hardships. Monaco's history dates back to the 6th century BC, long before Monte Carlo was the beloved Monte Carlo we know it as today.
The history of the region that is now Monte Carlo starts with The Rock- a large cliff protruding into the Mediterranean Sea. For over 700 years, The Rock has been seen as a form of protection and a shelter along the French Riviera. The Rock has been fought over for hundreds of years, all starting with the Ligurians.
In 6 BC the Phocaeans inhabited the region, followed by the Romans. In 1215 the Genoese took over the region, constructing a fortress on top of The Rock. The Grimaldi Family came to rule in 1297, and they are still ruling Monaco today.
In the 17th and 18th centuries, Monaco was facing economic hardship.
Looking for a way to bring financial stability to the country, the Grimaldi Family came up with the idea to build the Monte Carlo Casino with the intent to bring in wealthy foreigners and to establish Monaco as a world-class gaming destination known around the world.
After years of trial and error building up the casino, it finally flourished in 1859 and Monte Carlo as we know it was established. The city was named after the Prince of Monaco, Prince Charles III. Monte Carlo translates to "Mount Charles" in Italian.
The casino thrived, bringing in travellers from all over Europe to gamble along the Mediterranean coast. Over time, Monte Carlo became the world-class destination we know it as today, famous for its luxurious lifestyle, high-end fashion, and exclusive atmosphere.
Geography of Monte Carlo
In a country that is smaller than Central Park, when it comes to big cities, Monte Carlo is a relatively small one.
As Monaco is the second smallest country in the world, only being beaten by Vatican City as first, there is not much room for a humongous city.
What Monte Carlo doesn't have in size, it makes up for with its jaw-dropping geography. Between the sea and the mountains, Monte Carlo is known for its stunning views over the Mediterranean Sea and the Alpes- Maritimes mountains surrounding it along the other side. The city has a coastline boasting rocky cliffs, quaint, small, and secluded beaches, and surrounding hills scattered with scenic viewpoints.
The city of Monte Carlo is highly developed with luxurious hotels and high skyscrapers. The landscape of Monte Carlo is quite hilly with many steep inclines throughout the city.
Within the highly developed administrative area, you will find numerous escalators and elevators giving easy access to the steep hills.
The climate of Monte Carlo
Monte Carlo is pleasant year-round with the phenomenal Mediterranean climate.
Monte Carlo boasts over 300 sunny days each year, making it an amazing place to escape a long, wet winter. Winters are quite welcoming in Monte Carlo with temperatures ranging on average from 4 degrees celsius to 14 degrees celsius. While the city is overall quite sunny, Monte Carlo does see some rainfall during its winter months with an average of six rainy days a month.
Summers in Monte Carlo get quite warm reaching 28 degrees celsius and have an average of 15 hours of sunshine during the days. With the hot sun, warm sea, and cool sea breeze, Monte Carlo is an iconic summer destination.
Autumn and Spring are both lovely times to visit Monaco, with a range of 14 to 20 degrees celsius in each season. Autumn brings a higher chance of rainfall than Spring, but not enough to deter you from traveling to Monaco during these fantastic months.
There truly is no wrong time of year to visit Monte Carlo, although the city does see the most tourism during the summer months.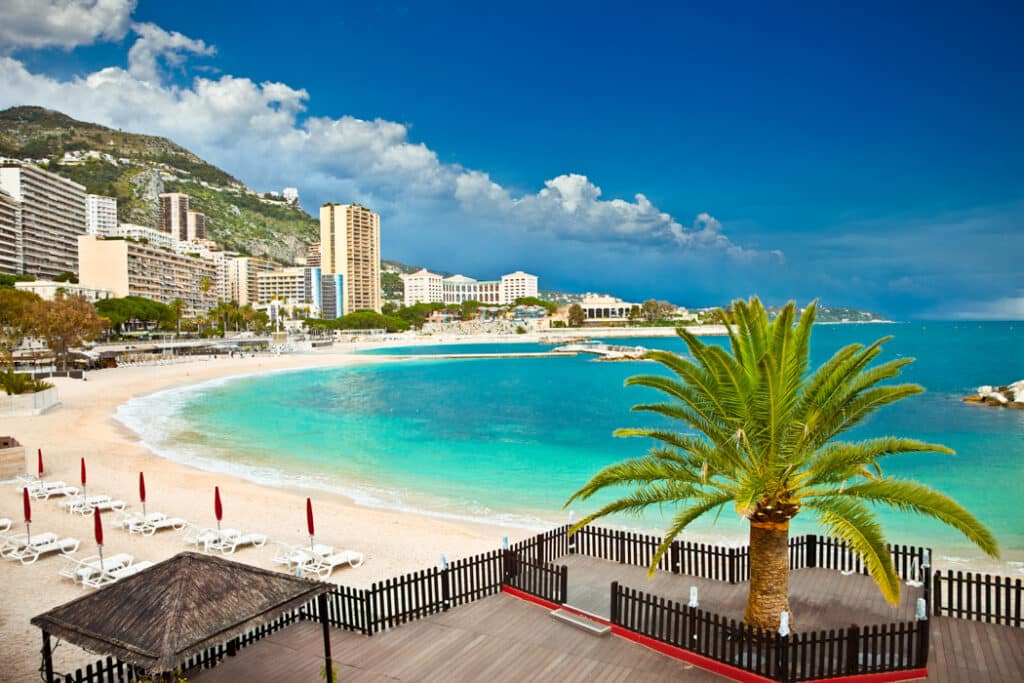 Tourism of Monte Carlo
A world-renowned destination for tourism, travellers from all over the world flock to Monte Carlo to experience the glamorous lifestyle associated with the city. Popular attractions in Monte Carlo are the Monte Carlo Casino, the Prince's Palace of Monaco, and the Oceanographic Museum.
Monte Carlo is a luxury destination with many high-end amenities including upscale resorts, exclusive nightclubs, and six Michelin-starred restaurants. There are numerous ways for tourists to fill their time when visiting Monte Carlo doing unique experiences such as testing out a luxury car- where you can choose from a Lamborghini or a Ferrari, and a 30-minute joyride or a few hours down the coast.
Tourism is one of Monte Carlo's highest economic contributors with the city bringing in swarms of tourists each year. It is estimated that the city sees over 12 million visitors each year.
Most travellers visit Monte Carlo as a day trip from the surrounding cities in the French Riviera. While the majority of travellers visiting Monaco are coming from their surrounding neighbor, France. Monte Carlo also sees a significant number of Italians, Americans, British, and Swiss travelers.
Large events such as the Monaco Grand Prix and the Monaco Yacht Show bring a significant amount of tourists to Monte Carlo. Each year, travellers coming to the Monaco Grand Prix triple the population of Monte Carlo with more than 100,000 visitors coming to the city from all around the world.
The Monaco Yacht Show also brings a huge surplus of visitors to the city with 35,000 people travelling to Monte Carlo.
Did You Know? Fun Facts About Monte Carlo!
Native to Monaco, citizens are called Monegasques. Monegasques are the minority in their country, only taking up 21.4% of the population. The remaining 78.6% of Monaco, known as Monacoians, are foreign citizens flocking to the tax haven.
Monaco is one of the safest countries in the world. Monte Carlo has one police officer per every seventy residents and with over one thousand security cameras, pretty much the entire city is under video surveillance.
With the flashy lifestyle in Monte Carlo, you may not expect that the average life expectancy to be one of the highest in the world. Monaco's life expectancy is 89.5 years old.
The city's close proximity to France and Italy makes a worker's commute extremely manageable. In addition to the easy commute, there are also numerous jobs available in Monte Carlo, especially as Monaco citizens are legally not allowed to work in the Monte Carlo Casino. Each day, the number of people in Monaco double as 40,000 French and Italian residents commute to work in Monte Carlo and throughout Monaco.
Monte Carlo is one of the world's wealthiest cities. There are more millionaires per capita in the city than there are anywhere else.
Monte Carlo has been in the media numerous times, but its influence in James Bond films is the most recognizable. The Monte Carlo Casino has become somewhat of a staple for Bond and we see it in many scenes throughout multiple James Bond movies and even a TV show.
With an inspiring history of how Monte Carlo came from rock bottom, stunning views overlooking the Mediterranean Sea from The Rock of Monaco, and a never-ending list of attractions to see and do in Monte Carlo, this city makes for a fantastic trip.
Whether you want to come for a weekend and immerse yourself in the luxurious culture, make a trip out of the Monaco Grand Prix, or jump on the train for a day trip from Nice, Monte Carlo is an incredible city that should be on your bucket list.