Monaco is a prime summer destination for travellers looking to sip champagne by the Mediterranean Sea, get a glimpse at multimillion-dollar yachts, and try their luck gambling in the glamorous Monte Carlo Casino.
Whether you're coming for the Monaco Grand Prix or to spend a weekend exploring the luxurious streets of Monte Carlo, the hard part of travelling is always nailing down the details of how to get there.
Nestled into the French Riviera, Monaco is about twenty kilometres northeast of Nice, France and thirty kilometres southwest from the Italian border.
Flying into Monaco
When starting your research for a trip to Monaco, you might be surprised to find out that there isn't an airport in the entire country.
Being the second smallest country in the world, the only way you can get to Monaco by air is via helicopter, because all the country has is a helipad. The closest airport to Monaco is the Nice Côte d'Azur Airport.
Considering this airport is in an entirely separate country, it's actually closer to Monaco than many European city's airports are to their city centre. The Nice Côte d'Azur Airport is only about twenty-two kilometres from Monaco and the journey can take as little as 30- 40 minutes.
When searching for the perfect flight you will find that many mainstream airlines fly into Nice. Some airlines only fly seasonally to the airport while others operate flights year-round.
Some popular airlines that you will find at Nice Côte d'Azur Airport are Air France, Austrian Airlines, British Airway, Iberia, Qatar Airways, Luthfansa, and Ryanair. Flying into Nice Côte d'Azur Airport is fairly simple, with plenty of flights coming in daily. Many cities in Europe have nonstop flights making a travel day quite simple.
When flying in, start your trip out with an exciting view by peeking out your window at the stunning water as the airport's landing strip is directly next to the Mediterranean Sea.
How to Get to Monaco From Nice Côte d'Azur Airport?
There are many options for travelling between Nice Côte d'Azur Airport and Monaco.
Easily accessible, you can take the French Riviera up on convenient and affordable public transport by train, public bus, or express bus. There are also private methods of transportation available including Uber, taxi, private transfer, car rental, and even the option to travel by helicopter.
Whichever option you choose, make sure to keep an eye out the window for the spectacular views along the Mediterranean Coast.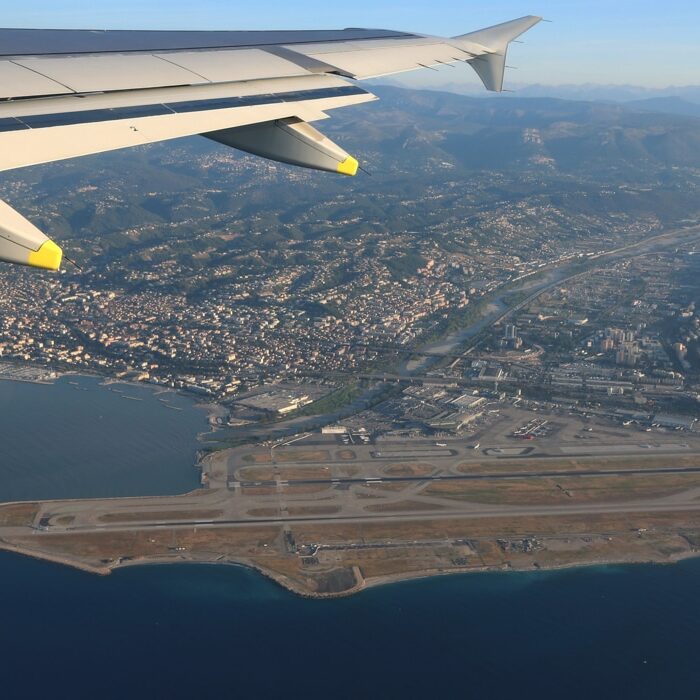 Public Bus
Travelling by public bus from Nice Côte d'Azur Airport to Monaco is a simple and effective method of travel.
There is an express bus that will take you straight from the airport to Monte Carlo. While the Express Bus 110 may not be the cheapest option, it is the most convenient form of public transportation. The Express Bus 110 will cost you 22 euros from the airport to Monaco and 33 euros from Monaco to the airport. From 6:00 to 20:00 the bus leaves every 30 minutes from Terminal 1 or Terminal 2. Tickets for the Express Bus 110 can be purchased online, at a ticket kiosk, or with the bus driver.
The route stops at some key points in Monaco and with the small size of the country you should not have a problem finding a stop within a stone's throw of your accommodation. The Express Bus 110's route is as follows: Nice Airport – Monaco Place d'Armes – Monaco Casino – Monte-Carlo Bay Hotel – Menton.
This is the most popular mode of transportation to Monaco so in the heavy tourism season you may find yourself in the back of what seems like a never-ending line. Don't fret, if you don't make it on the first bus you should be able to make it onto the next.
Express Bus
If you're looking for the most budget-friendly option available, you are going to want to skip the Express Bus and opt in for the public bus.
While your wallet may thank you for choosing this route, it is a bit of a hassle and takes some extra time and effort. First, you need to take the tram for 1,50€ from Nice Côte d'Azur Airport 13 stops to the Promenades Des Arts stop. From here, you have a 20-minute walk to the Nice Port.
At the Nice Port you will find Bus 100 and you can pay the driver for your bus fare.
The fee from here to Monte Carlo is only 1,50€ and takes around 45 minutes. The entire journey will only cost you 3 euros and takes a little under 2 hours.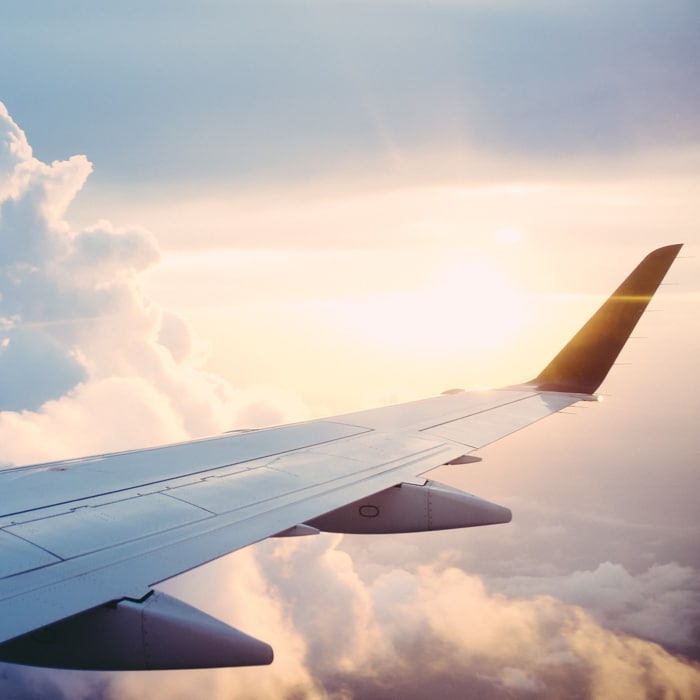 Train
A great option for travel between Nice Côte d'Azur Airport and Monaco is by train.
Although the train station is not walkable from the airport it is still a very simple, convenient, and affordable option. To get to the train station you will take Tram 2 which leaves from Terminal 1 and Terminal 2 for only 1,50€. You can purchase tram tickets at the kiosk in the airport and it leaves every 7-15 minutes.
Make sure you validate your ticket once on the tram to avoid any hefty fines. Take the tram to the train station and you can book your train tickets either at the ticket kiosk or online.
Omio is a great app to easily book train tickets beforehand. The train will cost around 4,10€, depending on the time of day and travel season and will take about 20 minutes.
The train runs from 5:00 to 23:00 every 30 minutes. Including the tram and train, this will take about an hour and cost around 5,60€. Make sure to sit on the right side of the train from Nice to Monaco for phenomenal views of the Mediterranean Sea!
This is a very popular choice for budget-conscious travellers as it is only a few euros more expensive than the public bus and provides a much simpler travel day.
Rideshare
If public transport isn't your thing, you can get to Monaco by car via Uber, taxi, or private transfer.
The drive takes about 30 minutes depending on traffic. Your cheapest option is typically Uber, with standard pricing ranging from 45-70€, but that is not always reliable as prices fluctuate based on demand and availability.
Taxis have a set fare from Nice Côte d'Azur Airport to Monaco at 90€. If opting to take a taxi, make sure to let your driver know you are aware of the set price to avoid any scams. When making your way back to the airport, the set price from Monaco to Nice Côte d'Azur Airport is 110€.
If you are coming to enjoy a luxurious vacation and are not interested in dealing with public transportation or dealing with a taxi, booking a private transfer might be your best option.
There are several companies that offer private transfers and the typical price range is around 100€ for a standard car.
Car Rental
There is also the option to rent a car from the airport. If you're planning on exploring all that the French Riviera has to offer this might be the most convenient option for you.
While public transportation is easy to navigate, quick, and affordable along the coast, sometimes it can be nice to have the flexibility and freedom of having your own car.
There are many car rental options within the airport, such as Hertz, Avis, and Europcar. Prices can range based on time of year and availability, but you typically can find a rental for around 40€ per day.
Helicopter
Looking to live up to the hype of the glitz and the glam that Monte Carlo offers? The most luxurious mode of transportation from the airport to Monaco is by taking in the views from above, private helicopter style.
There are numerous companies that offer this seven-minute ride, making this the fastest way to get to Monte Carlo. Private transfers fit seven people and typically cost around 160€ per person.
While this is the most expensive option to make the commute, the views of the sparkling sea and the dainty villages dotted along the coast make for an incredibly memorable seven minutes.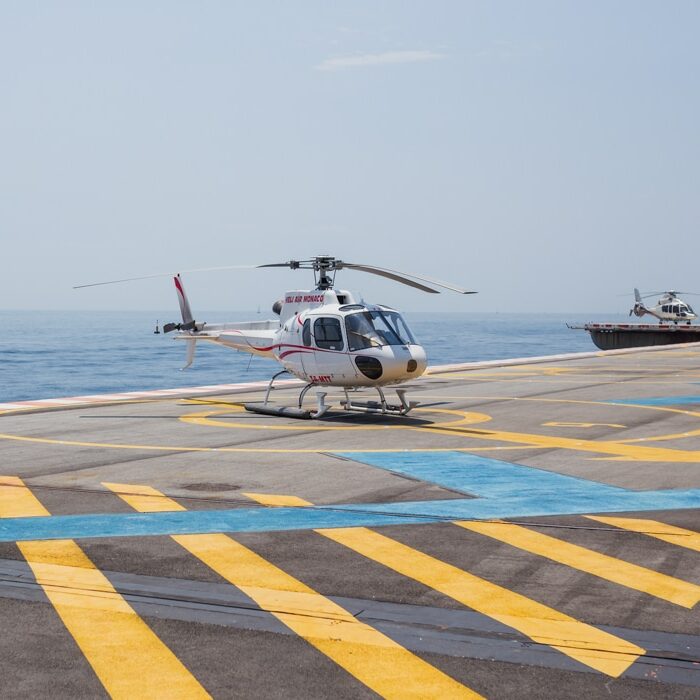 Coming to Monaco is well worth the trip, and even though the country doesn't have its own airport, the Nice Côte d'Azur Airport is a very close and convenient option.
Whether you're a budget traveller opting for a two-hour public bus journey or you're here to live like the Royal Family and find yourself flying down the coast via helicopter for seven minutes, Monaco is an incredible option for your next trip offering a range of transportation options.