With the French Riviera ranking in the top five best year-round climates in Europe, you can expect to find very pleasant weather when visiting Monaco.
With a Mediterranean climate, Monaco has warm summers and pleasant winters that rarely dip below 4 degrees Celsius. The country is famous for its luxurious yachts and there is no question that the climate in Monaco is ideal for a perfect day aboard a private yacht.
The country sees 300 days of sunshine each year and boasts blue skies all year round.
Current weather
The Weather in Monaco: Month by Month Guide
January
January in Monaco is chilly. You can expect the temperatures to be between 5 and 9 degrees celsius over the month. With a little over nine hours of sunlight daily, the sun rises around 8:00 and sets around 17:00.
Typically, January is cloudy and breezy with around five rainy days throughout the month. We suggest wearing a warm jacket if traveling in Monaco during January.
February
The coldest month in Monaco, the weather is typically around 4 to 9 degrees Celsius. You can expect the country to be cool and cloudy with a slight breeze.
Throughout the month there are typically four days of rainfall. February has around 10 hours of daily sunlight with the sun rising around 7:30 and setting towards 18:00.
When travelling in Monaco in February you should plan on wearing a warm jacket.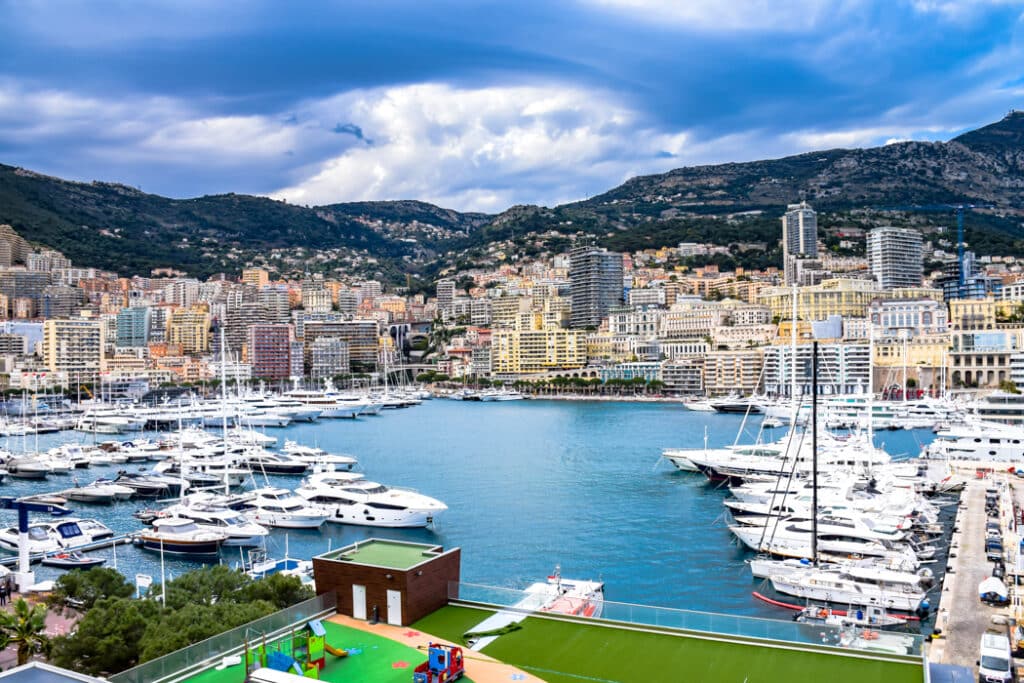 March
Starting to warm up a bit from the Winter, Monaco in March ranges from 6 to 12 degrees celsius. There are almost twelve hours of daylight with the sun rising just before 7:00 and setting a little before 19:00.
If travelling in March you should plan on the country being breezy and a bit chilly. On average, there are four days of rainfall in March and it is recommended to wear a jacket during your trip.
April
April brings spring time in Monaco!
It is still moderately chilly with temperatures ranging from 9 to 15 degrees celsius. As they say, 'April showers bring May flowers', there are usually five days of rainfall during April.
With days getting longer, April in Monaco has over 13 hours of sunlight each day. The sun rises around 6:50 and sets around 20:00. We suggest wearing a sweater or a light jacket if traveling in Monaco as it is still a bit breezy and often cloudy.
May
Moderately chilly, Monaco in May is between 12 and 18 degrees celsius on average.
With almost 15 hours of sunlight, the sun comes up around 6:00 and typically sets close to 21:00. It can still be a bit cloudy and windy in Monaco during May. This month sees about four rainy days throughout. It is advised to wear a sweater or a light jacket if visiting Monaco in May.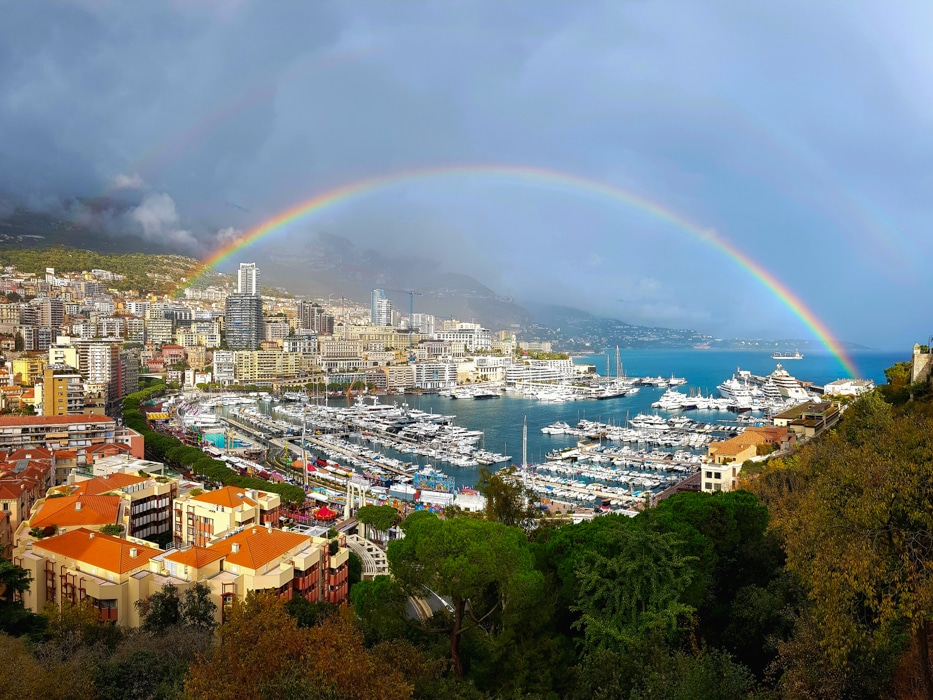 June
Starting to warm up, Monaco in June is typically pleasantly cool and slightly humid. You can expect days in June to be around 16 to 23 degrees celsius. With the month reaching 15 hours of sunlight each day, the sun usually rises around 5:45 and sets shortly after 21:00.
June typically sees three rainy days over the course of the month. We recommend wearing short sleeves and soaking in the sunshine when traveling in June.
July
Summer is here, with temperatures ranging from 19 to 26 degrees celsius. The days are warm and humid in July. You will have 15 hours of sun during the Summer months with the sun rising around 6:00 and setting around 21:00.
The driest month, on average there is only one rainy day during July so you can expect to see clear skies shining over the glistening Mediterranean Sea. Short sleeves are advised when exploring Monaco in July.
August
With Summer in full force, August is the hottest month in Monaco. Plan on warm days with temperatures of around 20 to 27 degrees celsius. During August, the sun rises at 6:30 and sets at 20:30, giving you 15 hours of sun each day.
There is a very low chance of rainfall, with typically only two days of rain over the month. Days this month are hot and humid and it is advised to wear short sleeves and pack a swimsuit so you can cool off in the sea!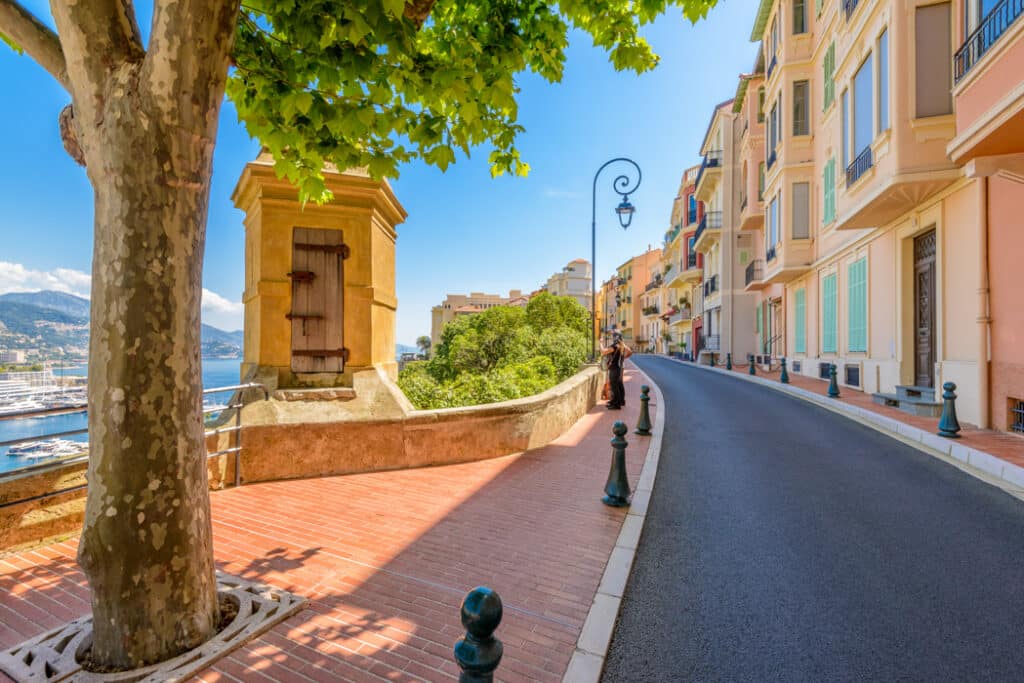 September
September brings the end of summer to Monaco, with the weather starting to cool down. You can expect the temperatures to be warm during the day and cool at night ranging between 16 and 23 degrees celsius. The days start to get shorter with an average of 12.5 hours of daylight each day.
The sun typically rises around 7:00 and sets just before 20:00. September typically sees rainfall three times. If traveling during the month of September you should wear short sleeves during the day and have a light sweater with you during the night.
October
With Autumn in full swing, Monaco is chilly and breezy with an average temperature of 12 to 18 degrees celsius during October. Down to 11 hours of sunlight each day, you can expect the sun to rise 10- 15 minutes before 8:00 and go down a little before 19:00.
On average, there are six days of rain this month. We advise that you wear a sweater when visiting in October.
November
If visiting Monaco during November, you can expect the weather to be chilly with a slight breeze. Temperatures range between 9 and 14 degrees celsius throughout the day. Be prepared for the chance of drizzle as this month typically sees six days of rainfall.
Days are just under 10 hours with the sun rising about 20 minutes after 7:00 and setting around 17:00. When travelling during November, you should plan on wearing a jacket in Monaco.
December
In the middle of winter, December in Monaco is cold and windy. Temperatures this month are around 6 to 11 degrees celsius. During the month of December, there are on average five rainy days.
December has the shortest days with only 9 hours of sunlight each day. On average the sun comes up around 8:00 and will set close to 17:00. If travelling during December, you should wear a warm jacket.
When is the Best Time to Visit Monaco?
With pleasant temperatures all year round, there is no wrong time to take a trip to Monaco.
The best time of year to visit the country depends on what you're looking to get out of your trip. With an array of special events strewn throughout the year, a flood of tourists during the summer months, and spectacular shoulder seasons, the best time to visit is entirely personal preference.
Low Season in Monaco
Low season in Monaco is from November to March. Many travellers see Monaco as a "summer destination" so they avoid the winter months on the French Riviera.
While the temperatures are a bit chilly ranging from 4 to 14 degrees celsius, the winters in Monaco are fairly mild with typically no more than six days of rain throughout the month.
The low season in Monaco is popular for travellers who prefer no crowds and a quieter experience. In December, Monaco has an annual Christmas market, enchanting decorations throughout the city, and an essence of a Winter Wonderland. The low season in Monaco brings more affordable prices for accommodations and services as well.
Peak Season in Monaco
Monaco's peak season lasts from June to August.
The crowds are plentiful during these months and temperatures can get quite warm. It is the best time to swim in the Mediterranean Sea and the days typically have around fifteen hours of sunlight.
Prices of accommodations and services will be the highest you will see throughout the year and the demand to come to Monaco this time of year is quite high. Summer is the most popular time to visit Monaco so be prepared for crowded streets, lots of traffic, and long waits at restaurants during these months.
The shoulder seasons are often considered the best times to visit a place, and that is no different for a trip to Monaco. Visiting in April and May or September and October are considered by many experienced travellers to be the best times to visit Monaco.
The weather is pleasant and the crowds are typically smaller. It is cooler than it is during summer but prices are often affordable and the sun is shining. If travelling during the shoulder seasons, keep in mind the Monaco Yacht Show takes place at the end of September and the Monaco Grand Prix is at the end of May.
There are Monaco's largest events of the year bringing tens of thousands of visitors to Monaco.
With a pleasant year-round climate, there is no wrong time to visit Monaco. Whether you are looking for a perfect summer day with a swim in the sea or a quiet luxury experience, Monaco is a fantastic destination for those wanting to experience the Mediterranean climate.