In the millionaire's playground of Monaco, what better place to play at being a millionaire yourself? With several companies and tour operators offering Monaco supercar tours, you, too, can turn heads on the streets of Monte-Carlo.
Whether you are a Ferrari aficionado or not, the iconic automobiles are lined up and ready to take you to the starting grid of Monaco's Formula One circuit and around the track, through the Hairpin and the tunnel, where the throaty roar of the engine will captivate you.
The rich history of motor racing is evident everywhere in the principality, so what better way to soak up the atmosphere and appreciate the ambiance than on a Monaco supercar tour?
Best Monaco Supercar Tours for 2023
There are two main Monaco supercar tours, and if you are a fan of Ferrari or Lamborghini, then these operators have the most perfect treat lined up for you. Whether you are an experienced driver or if you just want to go for the ride, it's up to you.
For the more experienced driver, there are also supercar hire options available in the principality if you want to organize and drive on your own independent Monaco supercar tour.
2-Hour Ferrari Drive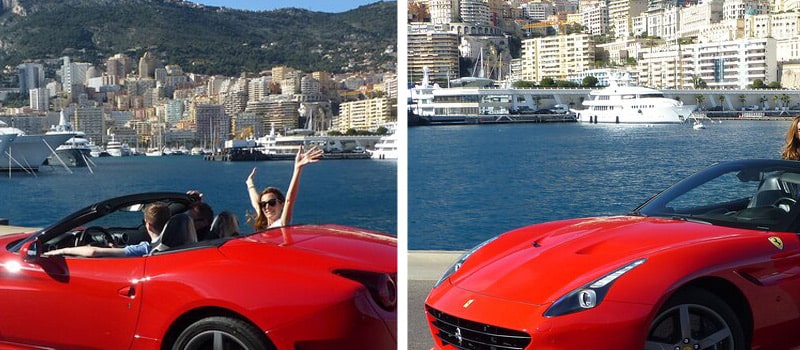 What about a drive in a red, two-door, soft-top, Ferrari California T? That's right, the T stands for turbocharged, not that you will need it on the streets of Monte-Carlo, all the same, it sounds amazing.
This beautiful car can be yours for a mere $120,000 to $250,000 second-hand, but for a couple of hours and €870, you can enjoy the fantasy on the Riviera without the commitment!
The price is per person, so for two, the cost rises to €1,740.
You don't have to drive the car yourself as a chauffeur is included in the ticket price. If you simply want to see and be seen, then this is your option.
An original valid driver's license is required if you will be taking the wheel, and it must be in Latin numerals and alphabet. Otherwise, an international driving license will be needed. 
Suitable footwear is also a prerequisite, so it's not a good idea to come straight from the beach. Don't expect to drive in sandals, flip-flops, or high heels!
The experience can be extended in 15-minute intervals at an additional cost. Enquire with your driver to see if this option is available on the day, or book an extension through the website.
Within the two-hour driving experience, you can take the car to some amazing viewpoints above the principality and to Cap Ferrat, Villefranche, Nice, and the Baie des Anges.
3-Hour Deluxe Ferrari Drive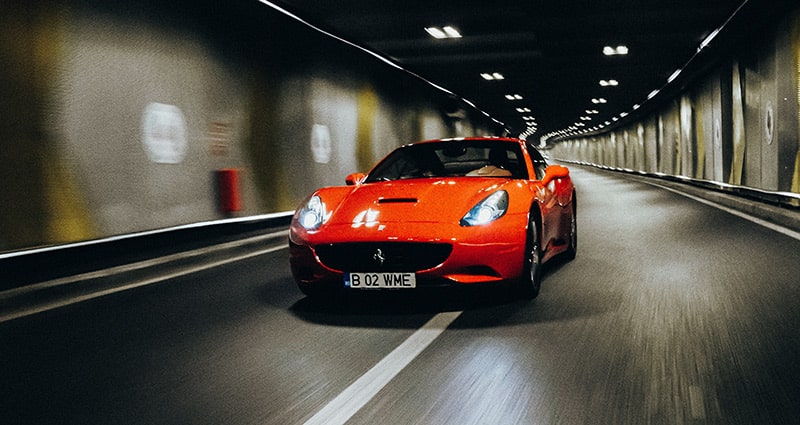 For a little more choice, you could step it up and choose not the Cali-T, but instead opt for either a Ferrari 458 Italia or a Lamborghini Gallardo. Both of these vehicles are two-seater, so the experience is best for a single driver as the instructor/chauffeur must stay with the car at all times.
This is a three-hour tour that takes in all the sights and sounds of the principality and finishes with a cocktail at the fabulous Maybourne Riviera Hotel.
For €920 you will get three hours in one of these superb Italian Stallions. If the tour is booked for two, then why not mix and match between the Ferrari and the Lamborghini?
The driving experience is popular, and the slots provided must be adhered to. If you are late, then you will lose the time allocated for your experience.
Again, with this tour, don't feel like you have to drive the car, after all, you are on holiday and it's perfectly acceptable to enjoy being chauffeured in a supercar around one of the wealthiest countries in the world.
Practical Tips for Booking Monaco Supercar Tours
Few things will stand in the way of an experience, such as a Monaco supercar tour, but it is as well to be prepared as to fail to plan is to plan to fail, as the sage said. So here are the important things you must remember.
Your driver's license, issued in the alphabet in which this article is written, or an international driving license if your original was issued in a country that uses a different alphabet i.e., Russia or Saudi Arabia.
Wear sensible 'driving' shoes. Sneakers are okay, but definitely loosely fitted beach footwear or high heels that will restrict movement on the pedals.
You must respect the speed limits in France, as the hiring company will forward any fines to you.
In some town centers, there is a rule called Prioritaire a Droit, which means that you must give way to vehicles emerging on the right. This might seem odd, but when it works in your favor in French traffic, it feels like the polite thing to do.
If the power of the vehicle feels overwhelming, then do not hesitate to hand over the controls to your pilot, who is extremely experienced in driving these vehicles!
Don't worry about car insurance. The price of the Monaco supercar tour includes all insurance.
The driver/pilot/chauffeur is empowered to refuse admission to a driver if they are obviously under the influence of alcohol or some other substance or are unwell and behaving erratically.
Other Options: Local Car Rentals in Monaco
So these two tour options look good, but what if you need a little more flexibility or even privacy when touring in a car around Monaco? Well, there are car hire options in the principality, too.
As it is a center of gravity for the rich and the famous, you will find it no surprise that you can put together your own Monaco supercar tour by hiring a Ferrari without a co-pilot. You will need a valid license and a very robust credit card limit to pull it off, but at the end of the day, it might just be a better option, especially if you are an experienced supercar driver at home.
Bentley Continental GTC
The Italians might have the glamour, but for pure old-school gorgeousness, it would be hard to find a vehicle that screams millionaire louder than a British Bentley Continental GTC with its caramel leather and its drop-down roof.
The deposit placed on a car hire like this is reassuringly expensive at €7000, and the rental comes in at €1500 a day for up to four days, after which the daily rate comes down.
Drive 150 kilometers a day in this six-liter beast, the epitome of style and speed combined, with a decent boot payload for those golf clubs or picnic hamper and plenty of room for four.
I would park it right outside the Casino at Monte-Carlo in the evening and see how many tourist pics I would end up in.
Lamborghini Huracan Evo Spyder
And in the blue corner is one of the most incredible Lamborghinis ever built, a low wedge of pure muscle that will slice its way through the rich atmosphere of Casino Square and have everyone drooling.
From the same stable as the Bentley, the hire rates start high at €2000 a day but then edge down if you want to make this car the one that takes you where you want to go up and down the Riviera at a pace you set.
There is a deposit deal with this car. Put down €15000, and it's €2000 right off the bat, or pay no deposit and up the day rate by just €120, making this a much more affordable option.
Mercedes-Benz G63 AMG
But for understated luxury driving, you can't really beat a Mercedes, can you? Especially if the vehicle in question has AMG as the trim level. It might not look much like a supercar, but it will certainly feel as prestigious as it gets, especially if you are in a larger group, as it comfortably seats five adults.
From just €1000 a day, this Mercedes will look amazing and feel fantastic to drive, making your group feel like a cabal of millionaires out to experience the high life in Monaco.
It comes with a 200-kilometer daily road allowance, so don't be afraid to go on proper exploratory safaris out of the neighborhood and discover the sights and sounds that would be impossible in just a couple of hours.