Monaco offers a range of hotels showcasing unrivalled charm and the epitome of luxury.
With approximately 35 hotels in the country, there are not only luxury hotels available.
While many of the hotels do hold a sense of luxury, there are also boutique hotels, business hotels, and historic hotels. With a range of status and elegance, these hotels range from luxurious historic hotels to more modern and flashy options.
Choosing Your Monaco Hotel
Monaco is a very small country, but has a range of districts that offer different atmospheres and experiences. When planning a trip to Monaco you need to think about what it is that you are hoping to get out of the trip.
Do you want to be near the beach?
Are there specific attractions you want to be close to, such as the Monte Carlo Casino?
Maybe you are coming for an event, and want to be in the heart of the action, or maybe you are looking for a quiet and relaxing getaway. These are important when deciding where you want to stay in Monaco.
Think about what attractions are important for you to see while you are in Monaco and how close you want to be to them.
If you are planning on spending a majority of your time at the Monte Carlo Casino, experiencing glamorous nightlife, or partaking in luxury shopping, it is advisable for you to stay in the Monte Carlo district for easy access to these amenities.
If you are a big fan of historic old towns and love being in the heart of the charming atmosphere, consider looking into accommodation in Monaco-Ville, or atop The Rock of Monaco.
This region also offers some of the best views over the Mediterranean Sea. If you want a luxury experience and to spend your days soaking up the sun, swimming in the sea, and wasting the day away at various beach clubs, then it would be in your best interest to stay in the Larvotto Quartier.
Luxury Hotels in Monaco
Hôtel de Paris Monte-Carlo
The most iconic hotel in Monaco featuring unparalleled elegance, the legendary Hôtel de Paris Monte-Carlo was built in 1864.
This hotel is known for being a historic hotel in Monte Carlo, exuding timeless elegance and charm.
The Hôtel de Paris Monte-Carlo features marble colonnades, crystal chandeliers, and a sense of old-world charm. The Hôtel de Paris Monte-Carlo is a symbol of luxury and features a Michelin-star restaurant, a spa, and remarkable views over the Mediterranean Sea.
This is a sought-after destination for travellers seeking the utmost in luxury and prestige.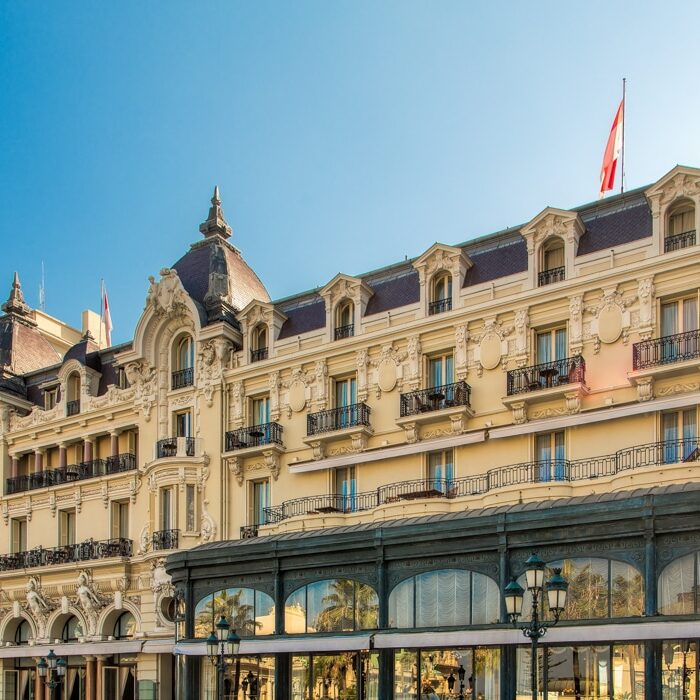 Hôtel Hermitage Monte-Carlo
Just steps away from the Monte Carlo Casino, this Belle Époque style hotel is absolutely glamorous and is symbolic with elegance. Each room is individually decorated and provides views of either the garden, the city, or the sea.
On the property, you can find a Michelin-starred restaurant and a 7000 square meter spa. This hotel has the perfect combination of a serene and intimate experience.
Dating back to 1900, Hôtel Hermitage Monte-Carlo is also considered a historic hotel featuring lavish decor seeping with elegance and sophistication.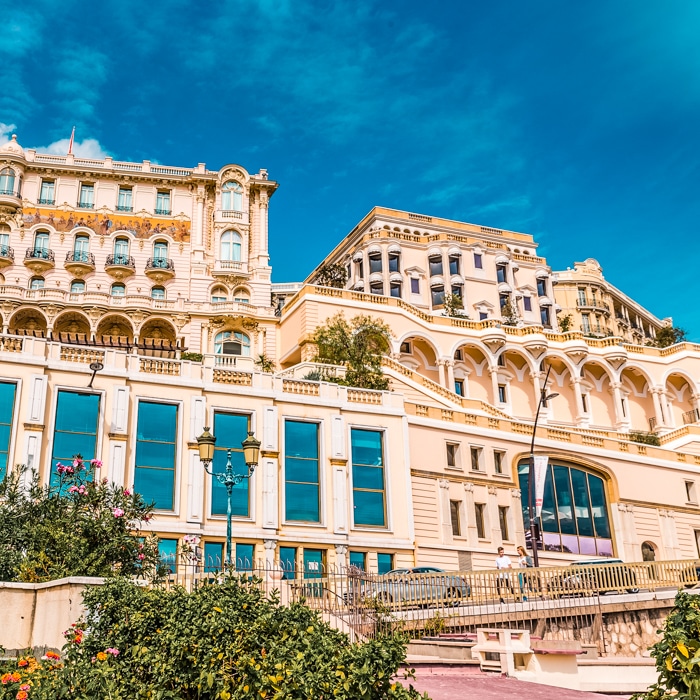 Fairmont Monte Carlo
The Fairmont Monte Carlo is one of the largest luxury hotels in Europe, and it perhaps one of the most well known hotels in the country.
With rooms facing the Mediterranean Sea, as well as the Monaco Grand Prix Formula One circuit, the Fairmont Monte Carlo offers a luxury experience to its guests. Located on a hilltop facing the sea, the hotel also offers a private beach, an exquisite French restaurant, and restaurant Nobu.
Fairmont Monte Carlo is also known for being a popular business hotel, offering a range of business facilities and services.
With professional event planning services, the hotel also has a fully equipped business center, multiple meeting rooms and conference spaces, and exclusive lounges.
Hotel Métropole, Monte Carlo
Designed by Jacques Garcia, the Hotel Métropole, Monte Carlo boasts some of the most stunning architecture and design in Monaco. With Belle Époque style architecture, this prestigious hotel is jaw-dropping.
The hotel also offers Michelin-starred restaurant, Joël Robuchon Monte Carlo where you can experience a phenomenal dining experience while tasting gourmet cuisine. The Yoshi restaurant is also on property, serving exquisite Japanese cuisine as well as a restaurant serving Mediterranean-inspired cuisine.
Established in 1866, Hotel Métropole, Monte Carlo is also considered a historic hotel and has welcomed millionaires and celebrities throughout the years, with rooms that can reach up to 40.000 euros a night.
Monte Carlo Bay Hotel & Resort
Located in Larvotto, the Monte Carlo Bay Hotel & Resort offers luxurious rooms and suites with contemporary and elegant design and gorgeous views overlooking the Mediterranean Sea or the hotel's stunning garden.
Offering a full resort experience, the hotel has four hectares of lush gardens showcasing waterfalls, lagoons, and lush vegetation. Additionally, there is an outdoor pool and an indoor pool as well as a private beach leading into the crystal clear Mediterranean Sea.
With several dining options, including a Michelin-starred restaurant with Chef Marcel Ravin and a bar offering panoramic views over the sea.
The Monte Carlo Bay Hotel & Resort is also a popular choice for business travellers as it has a convention center and multiple meeting rooms.
Monte Carlo Beach
Monte Carlo Beach is a luxury hotel located right on the water, between the sea and a pine forest. It is a serene location with a private beach. Surrounded by gorgeous gardens and with exquisite dining options, Monte Carlo Beach Hotel is a haven offering stunning views and world-class amenities.
Boutique Hotels in Monaco
Columbus Monte Carlo
Columbus Monte Carlo can be found in the trendy Fontvieille.
Full of glamour, boasting a stylish design, and with its proximity to the Stade Louis II sports complex, this hotel is quite popular with people associated with Formula One and other sports.
With a rooftop pool and a terrace overlooking the Princess Grace Rose Garden, the Columbus Monte Carlo is a perfect place to soak up the sun and relax with panoramic views of the Mediterranean Sea.
In a more tranquil neighbourhood than the bustling Monte Carlo, guests often choose Columbus Monte Carlo for its comfortable yet still luxurious experience in Monaco.
Le Méridien Beach Plaza
Offering a boutique hotel experience and situated on the waterfront, isolated away from the hustle and bustle of Monte Carlo, Le Méridien Beach Plaza gives guests a luxurious and serene experience.
With its prime location, they offer a private beach with direct access to the sea. Le Méridien Beach Plaza is known for being one of the most prestigious hotels in Monaco and offers an indoor pool and two outdoor pools.
Their rooms are spacious, comfortable, and elegantly decorated, and many offer private balconies or terraces with breathtaking views of the turquoise water.
There are many dining options on property, but the main restaurant, L'intempo, hosts themed dinner nights.
Port Palace Hotel
At this boutique hotel, you can choose between harbor or old city views as it is located in the Port Hercule area. With a luxurious ambience, the Port Palace Hotel also features a gourmet restaurant, a rooftop terrace, and an on-site spa.
Hotel Ambassador Monaco
Cozy yet elegant, the Hotel Ambassador Monaco is tucked away in a quiet residential area.
With an intimate and charming atmosphere, this is the perfect place to stay to get away from the craziness of the city, while still being close enough to major attractions. Guests have access to their intimate lounge, bar, and terrace offering a pleasant atmosphere.
How Much is a Night in Monaco?
Depending on time of year and level of luxury, the prices of hotels can vary tremendously.
With different levels of reputations as well, hotels in Monaco can range from 300 euros a night to tens of thousands of euros a night.
During low or shoulder season, standard rooms in a mid-range hotel can cost around 300 euros a night, but the same room can cost closer to 1000 euros a night in the summer or during prestigious events such as the Monaco Grand Prix or the Monaco Yacht Show.
A standard room in many luxury hotels cost, on average, between 500 to 1000 euros a night during the low season and these prices significantly spike when demand is high.
Monaco is known for its extravagant accommodations, and some exclusive suites in luxury hotels can cost 20.000 to 40.000 euros a night during large events or the summer season. Many people traveling on a budget choose to stay in neighboring French towns such as Menton, Nice and Beausoleil.
Monaco stands as a haven of luxury and sophistication, offering some of the most prestigious and highly esteemed hotels in the world.
Whether looking for a luxury hotel or a boutique hotel, Monaco offers a range of 35 incredible hotels. From the Hôtel de Paris Monte-Carlo exuding its historical glamour to Le Méridien Beach Plaza with its serene seaside experience, Monaco's hotels have a lasting impression on guests creating an unforgettable experience.