Why hire a Yacht in Monaco?
Monaco is home to one of the world's most exclusive and prestigious yacht clubs and has an excellent climate for sailing year-round.
Whether you are an experienced sailor, or simply looking to get away from the Monte-Carlo summer crowds Monaco yacht hire is easy to book and great fun!
With private beaches filling up and privacy at a premium in Monaco, yacht hire can solve the problem by taking you and your party out beyond the noise and bustle into the sparkling waters of the Mediterranean Sea.
Whether you want to do something with a touch of glamour to celebrate a life event or a work win, or perhaps you want to host a party to raise the profile of a product or service, hiring a yacht in Monaco will be something to remember.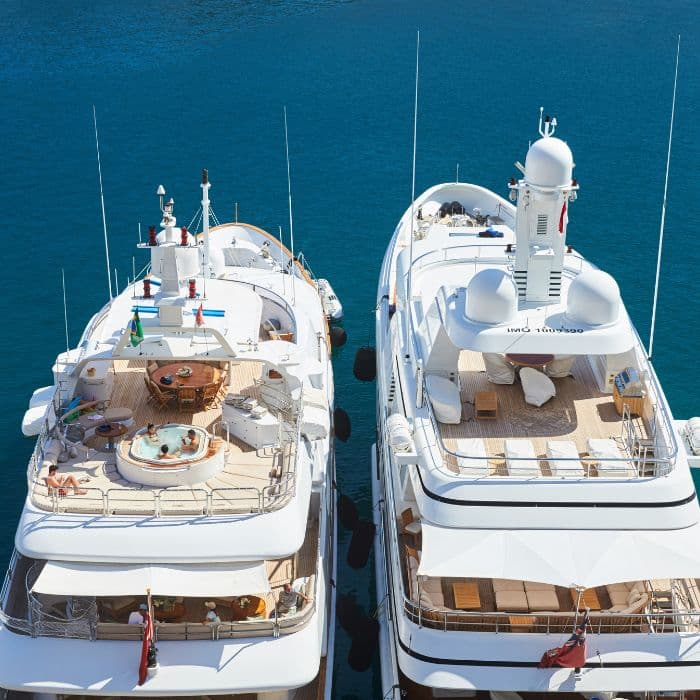 Monaco Ports for Docking
Port Fontveille
Port Fontveille is a modern addition to the facilities in Monaco. Developed between 1966 and 1973 using state-of-the-art land reclamation engineering it boasts 275 moorings, of which 16 are set aside for visitors.
It is well protected, sheltered by the Rock of Monaco and an immense sea wall.
The Heliport and sports stadium are nearby, and there are two Monaco yacht hire companies operating out of Fontveille too.
Port Hercules
Central to Monte-Carlo and the original deep-water harbor that made Monaco a medieval Mediterranean maritime power, Port Hercules is a magnet for superyachts, the massive and the modern.
It can provide moorings for up to 700 yachts and frequently hosts cruise ships.
Port Hercules is where you will find most of the Monaco yacht hire companies are located to do business.
The port has all the infrastructure required to supply fuel and take out your wastewater.
The Yacht Club Marina
The Yacht Club Marina is an exclusive members-only facility that can only be accessed by prior booking.
Rates for a mooring in one of their exclusive 26 places start at more than €16,000 a day during the Grand Prix.
The options are less pricey during the rest of the year, and because the marina is shielded there is more privacy in the yacht club than in the main harbor, which is sometimes shared with cruise ships.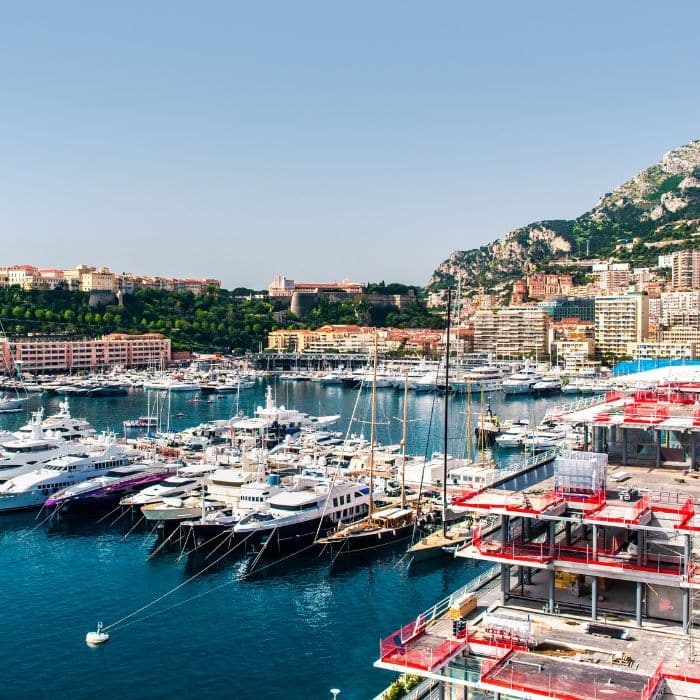 Best Monaco Yacht Hire Options for 2023
So if you fancy ruling the waves with the great and the good, the rich and the wannabees, what are the options?
Do you want a simple sail and swim off the coast, or to explore the hidden coves of the Riviera?
Most yacht rentals come with a skipper and crew to take you wherever you want to go, other, smaller craft can be hired for a half day and can be self-captained on a shorter excursion if you have the correct license. Whatever your needs, check out this selection.
If you are on a limited budget but still want that glamorous Riviera watersports experience then there are plenty of options at this level.
You will need a skipper's license to take full advantage, and a little extra in the budget if you need to hire waterskis or a wakeboard.
The boat can take up to six people, so make sure at least one of you has a license.
Splitting the cost between friends will make for an inexpensive and unforgettable day out on the water.
For a little luxury on the waves, this yacht comes with a sun awning over the seating area, a sound system, GPS, and all the other modern requirements to make a sailing day safe and simple.
You can skipper this one yourself, and it comes with children-sized life jackets, so it's a great family option.
With enough notice, the owner can provide a welcome lunch with wine. It is also available for aperitifs and fireworks after sunset in port.
An absolute classic yacht for deep sea fishing or for a swim day out on the waves. It has all the kit for an adventurous day out with a jet ski, water skis, a towable tube, and a drone with a video camera to capture all the fun.
There is the option to stay overnight on the boat, with a full board offer too, with rates that look pretty competitive when compared with spending time at the Hotel de Paris on Casino Square.
Never say never again as you ride the waves in this emission-free 2023 all-electric conversion of a classic 1961 luxury motorboat.
A skipper is included in the price, and they will take you wherever you want to go.
While it doesn't have the amenities of a larger boat it has a certain something, a classic, timeless design that reflects the joyful glamour of Monaco in the '60s.
With room for eighteen guests, plus a skipper, deckhand, and hostess, this is a terrific party yacht.
With four cabins the versatile accommodation has room for all your guests.
Ideal for swim days where you can make as much noise as you want.
For people who want to be noticed, this yacht really does turn heads with its sleek modern design.
It has a sundeck and a lounge and can accommodate up to eleven people.
The price includes a skipper, fuel, soft drinks, and towels.
For €4,795 it can be yours for an entire day of fun in the sun out on the open water.
A classic 1956 motor yacht that can cater for up to 80 guests quayside, or take 36 people out on a cruise along the Riviera.
With five cabins and staterooms and a broad deck with sun loungers and a bar, this yacht can cater for any event.
The owners have flair bartenders, photographers, musicians, and chefs on their roster to take care of any and all requirements.
What To Consider Before Booking
Are all my guests competent swimmers?
You might be excited to leave the beach behind and dip into the deeper waters of the Mediterranean, but it's a good idea to check that your guests will be as confident as you are.
Will you be bringing children along for the ride?
It's always a good idea to check with the hiring company whether child-size Life Vests are available.
Is the fuel cost included?
Yachts can drink a lot of diesel, averaging about 75 liters an hour, which is like filling up your SUV and can add quite significantly to the hire cost.
Do I have a skipper's license?
If you don't then perhaps a guest might. Supplying your own skipper not only saves money, the average price is €200, but it could also ensure your privacy on your day out at sea.
Will I need to hire a yacht for an entire day?
It is a good idea to consider whether you will have the energy to water ski and wakeboard for an entire day. Perhaps a half-day hire in the morning, when the weather is less hot, followed by lunch on land might be a better plan?
Do members of your party get sea or motion sickness?
Bobbing around on the water might be relaxing and fun for many of us, but some folks really aren't suited to life on the waves! Check before you book, and don't worry too much if someone would rather be left behind.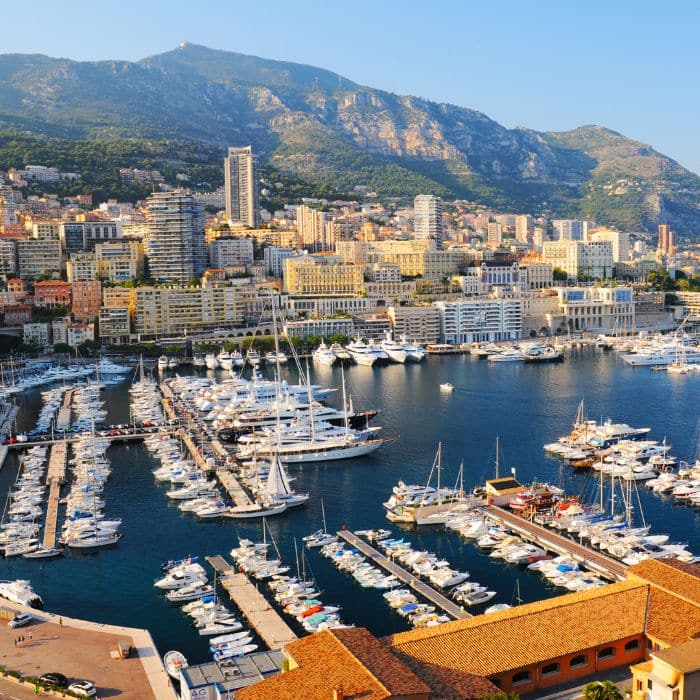 Monaco Yacht Hire: Frequently asked questions
How much does a Monaco yacht hire cost?
Hire costs in Monaco vary depending upon the size and duration of hire required. The smallest boats can be hired from as little as €300 per half-day up to the tens of thousands for a fully crewed luxury yacht.
I recommend planning your budget and sticking to it. You will find a wide array of hire options, so price them in before you make a decision.
Which yacht to charter in Monaco
Always ask yourself the question; why do I want to hire a yacht? If it is for watersport opportunities, then check out the list of optional extras the yacht has to offer.
If you simply want a romantic sunset cruise, then make sure that this is something the yacht owner offers.
I recommend taking a look at the reviews left by previous hirers too, especially those with photographs.
What is the best time to visit Monaco and hire a yacht?
Unless you are part of the Grand Prix set-up it's probably not a great idea to visit at the end of May when it's on and expect to get a great yacht hire. Either side of that week, say early May or late June are better times to hire a yacht.
After the high season of July and August comes September when the weather is still gorgeous and the sea still warm. There are fewer crowds on the beaches and there will be more choices of yachts up for hire.